US News currently ranks the 2019 Honda Ridgeline first in its class, commenting that: "It provides good acceleration from a stop or at speed, and the Ridgeline doesn't feel underpowered, even on the highway." Even with such competitive power beneath the hood, Honda Ridgeline fuel economy scores still remain impressive.
To prove that point, we've put together a quick overview covering:
Fuel Economy Scores
Efficiency Features
Powertrain
Power Output
Powertrain and MPG
Regardless of trim level, your Honda Ridgeline will command up to 280 hp and 262 lb-ft of torque from a 3.5L i-VTEC®V6 engine. As noted by US News, that's enough power to behave with spirit whether tackling highway or city street, and an available Intelligent Variable Torque Management® (i-VTM4®) AWD system gives you the capability to travel across unpaved roads or travel during adverse weather.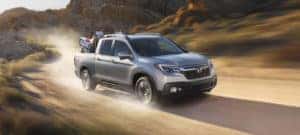 That output is refined through a state of the art 6-Speed Automatic Transmission (6AT) for top-tier efficiency scores:
Honda Ridgeline MPG 2WD: The Honda Ridgeline RT with 6-Speed Automatic makes up to an EPA-estimated 19 mpg in the city and 26 on the highway as standard*.
Honda Ridgeline MPG 4WD: The Honda Ridgeline Sport with 6-Speed Automatic makes up to an EPA-estimated 18 mpg in the city and 25 on the highway with available AWD*.
Honda Ridgeline Efficiency Features
The Honda Ridgeline's combination of power and fuel economy might be hard to fathom, but it just comes down to good engineering and forward-thinking efficiency features.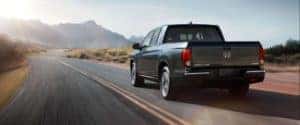 Just a few of those features include:
Eco Assist™ System: Provides a visual feedback of how your driving behavior is affecting fuel consumption. Over time, you'll coach yourself into a more efficient style.
Variable Cylinder Management™ (VCM®): During steady cruising, two engine cylinders are automatically shut off to prevent unnecessary fuel consumption.
Experience the 2019 Honda Ridgeline for Yourself by Arranging a Test Drive
Delivering a vibrant yet efficient ride across all trim levels, the 2019 Honda Ridgeline is one of the most popular AWD vehicles for those in search of a fuel efficient truck. To find out more or hear about the latest specials, don't hesitate to contact us today or visit your local Capital Region Honda dealer.